UK aid matches public donations
Public support for charity appeals will be matched pound for pound under the new UK Aid Match scheme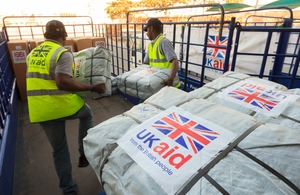 Public support for charity appeals will be matched pound for pound under a new scheme recently launched by the Government. The first appeal to receive support from the scheme is Save the Children's Born to Shine fundraiser on ITV1.
The UK Aid Match scheme will see the Government double money donated by the public to appeals for charity projects in developing countries, thereby giving the British public a say in how part of the aid budget is spent.
Public donations throughout the final episode of Born to Shine will be matched by the Government. This support will mean Save the Children can help more mothers and children get vital health and nutrition in some of the world's poorest countries.
International Development Secretary Andrew Mitchell said:
"Every day, the British public demonstrates its generosity and commitment to reducing poverty in the developing world by donating their money to appeals and charities.
"By matching pound for pound the money that people give, the Government and the British taxpayer will be supporting their choice and contributing to poverty reduction in developing countries.
"Save the Children's Born to Shine appeal will contribute to a brighter future for thousands of children, and today's announcement is an excellent example of how the public, the Government and the charity sector can work together on the shared goals of improving the lives of some of the poorest and most vulnerable people in the world."
Justin Forsyth, CEO of Save the Children said:
"We are delighted the Government is going to match every pound that people donate for children overseas through ITV's Born to Shine appeal for Save the Children. This Sunday is the final show of the series and we hope people will feel even more inspired to pick up the phone and donate to help children overseas, knowing that their gifts will be doubled thanks to the Government's funds too."
Published 15 August 2011