World news story
UK aid contributes to the conservation of the Maya Biosphere Reserve in Guatemala
From:

Part of:

Published:

2 September 2013

Last updated:

2 September 2013, see all updates
This was published under the 2010 to 2015 Conservative and Liberal Democrat coalition government
The Department for Environment, Food and Rural Affairs (DEFRA) of the United Kingdom, through its Darwin Initiative programme, has granted £269,681 for a 3 year project aimed at protecting forests in the Mayan Biosphere Reserve (MBR) in Peten by working together and benefiting nearly 4,000 people living in the area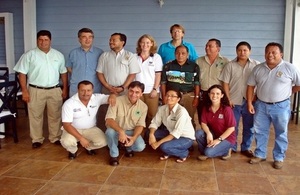 The project "Evaluating community-based conservation agreements in Guatemala´s Maya Biosphere Reserve" is going to be implemented by the Wildlife Conservation Society's (WCS) in partnership with Conservation International and the Guatemalan parks authority, CONAP and other local Institutions; which have started an innovative incentives system, known locally as Conservation Incentives Agreements.
The Conservation Incentives Agreements are contracts between local communities, government, NGO partners, and donors, in which local communities commit to protecting biodiversity, and in turn, receive much-needed assistance with basic necessities such as access to healthcare or education. The incentives themselves are chosen by local communities, and the contracts are designed and managed with the full participation of inhabitants in the area and governmental partners.
The project will build on advances obtained during the 5-year Maya Biosphere Reserve Governance Program supported by UKAID's Governance and Transparency Program (DFID/GTF), which helped WCS, local partner NGOs, and the Guatemalan Government to initiate the Conservation Incentives Agreement model beginning in 2009.
During the three-year project period, the outcomes to be completed are:
Implementation of 4 community agreements allowing conservation of more than 143,837 hectares of forest and directly benefiting 4,000 people.
Demonstrate impacts of community conservation agreements, synthesizing experiences in distinct community contexts, evaluating biodiversity and poverty reduction impacts.
Producing outreach materials to disseminate lessons learned, each uniquely targeted toward a different audience.
Policy recommendations including analysis of opportunities for, and limitations to the replications of conservation agreements.
To mark the announcement, British Ambassador to Guatemala, Sarah Dickson, said: "I am delighted of the UK's continuing commitment to international conservation. The Darwin Initiative has helped some of the world's poorest communities protect some of the most important wildlife on the planet, including Guatemala. We're looking forward on continue working together with the Guatemalan authorities in our joint quest to tackle poverty and increase prosperity".
To know more about this and other projects run by the British government in Guatemala, please visit https://www.gov.uk/government/world/guatemala.
Document information
Published: 2 September 2013
Updated: 2 September 2013
reviewing translation
Added translation