News story
UK aid continues to deliver results and drive growth
The Department for International Development's Annual Report and Accounts 2013-14 published.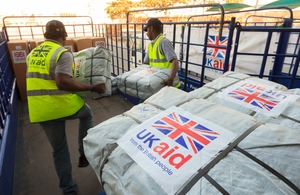 UK investment in overseas development is now more transparent, accountable and results focused than ever before, the International Development Secretary said today as the Department for International Development (DFID) published its 2013-14 Annual Report and Accounts.
Value and results for taxpayers' money remains the core priority for the department with UK aid continuing to transform the lives of millions of the world's poorest people while developing Britain's trade partners of the future. This year DFID has:
helped one million people affected by Typhoon Haiyan in the Philippines with the deployment of two Royal Navy ships with marines, engineers and medics and the provision of £77 million in humanitarian support

now committed over £600 million to the Syria Crisis making this Britain's largest ever humanitarian response. The UK has provided ordinary Syrians in desperate need with food, clean water and access to toilets as well as winter kits with blankets to protect families against the cold

co-chaired 'Keep her Safe', an international call to action on protecting girls and women in emergencies. DFID also worked alongside other government departments to set up a consortium of leading anti-FGM campaigners with the goal of ending the practice

launched a new online Development Tracker tool that shows how taxpayers' money is delivering results

made its first commitment of £8.8 million via the DFID Impact Investment Fund to help kick start small businesses in East Africa that have the potential to grow rapidly and help others around healthcare, clean water and housing

enabled almost 40,000 women in Sierra Leone to use a modern method of contraception and take more control over their bodies for the first time
Justine Greening said:
Britain can be incredibly proud of what we achieved last year, from the lives we have saved to the economies we are helping to grow and become self-sufficient.

As we strive for a safer, more prosperous world, I will continue to ensure that every pound DFID spends has the biggest possible impact and delivers value for money.
With just one year left to achieve the Millennium Development Goals, the report also reflects the department's priorities as we approach that milestone. As well as planning for the next set of goals, DFID will continue to increase its focus on three key areas:
Girls and women: no country can properly develop if half of its population is being left behind.
Economic development: we want to end aid dependency through jobs.
Humanitarian support: DFID's first responsibility will always be to save lives under imminent threat.
Published 15 July 2014