World news story
UK advises Laos on future energy use and emissions decision-making tool
British Embassy hosts forum to help Lao officials better understand use of web-based 2050 Calculator to assist energy use and emissions reduction decision-making.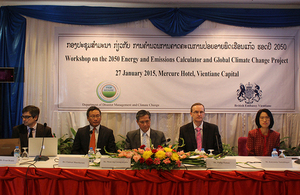 The British Embassy in Vientiane partnered with the Department of Disaster Management and Climate Change this week to host a half-day forum to build awareness within the Lao government of a UK methodology to aid policy decision-making on future energy use in order to reduce emissions causing climate change.
Attended by officials from the Ministry of Natural Resources and Environment, Ministry of Energy and Mines and other government stakeholders and international organisations active in the field of climate change, the forum introduced the 2050 Energy Pathway Calculator, an interactive web-based computer model that enables users to experiment with the many different ways of reducing emissions.
In his opening speech, British Ambassador Philip Malone said:
Southeast Asia is important to the global efforts to combat climate change, we hope governments in the region will take decisive action to move onto a lower carbon pathway, including reducing emissions from deforestation, removing energy subsidies, improving energy efficiency, and finding alternatives to coal for future power generation. The Climate Calculator is an important tool to inform this kind of decision-making.
Developed by the UK's Department of Energy and Climate Change, as part of UK efforts to reduce her own emissions by at least 80% by 2050, relative to 1990 levels, the 2050 Calculator allows policy-makers and others to see the emissions scenarios caused by policy decisions in key sectors like energy, transport, industry and agriculture. This provides an understanding of the choices and policies necessary to achieve a balance between long-term emissions reductions and energy security.
Funding from the UK International Climate Fund (ICF) has supported the start of 2050 Energy Pathway Calculator projects in several ASEAN countries, including Thailand, Vietnam and Indonesia. Projects using the 2050 Energy Pathway Calculator methodology have also been completed by Belgium, South Korea, South Africa, Japan and Taiwan, and India, Mexico, Brazil, Nigeria and others are currently developing their own 2050 Calculators.
Through ICF, the UK has committed £3.9 billion between 2011-2016 to help developing countries adapt to the impacts of climate change and move onto a low carbon growth path.
Published 28 January 2015