World news story
Ugandan delegation attends Global Law Summit in UK
2015 Global Law Summit marks 800 years since historic sealing of Magna Carta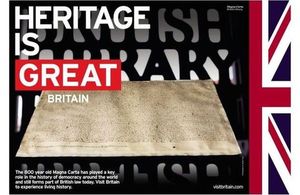 Minister of Justice and Constitutional Affairs, Hon. Kahinda Otafiire, is this week leading a senior Ugandan delegation to the Global Law Summit, taking place in London on 23-25 February. The delegation also includes the Attorney General, Hon. Peter Nyombi, and senior Ugandan state attorneys.
The Global Law Summit, launched by Secretary of State for Justice and Lord Chancellor, the Rt. Hon. Chris Grayling MP, is a high level business forum supported by the legal profession, business and government. It will bring together around 2000 practitioners, business leaders, public sector decision makers and government representatives to celebrate the judicial traditions of impartiality, integrity and fairness, and to champion the Rule of Law as the cornerstone of fair and just societies.
The Summit will also mark 800 years since the historic sealing of Magna Carta at Runnymede in 1215. It is a unique opportunity to commemorate, celebrate and embrace 800 years of legal history which have inspired lawyers and non-lawyers alike for generations.
Speaking ahead of the event, Prime Minister David Cameron said,
To mark 800 years since Magna Carta, I am pleased that London will welcome global leaders in both business and the law to discuss the issues that are shaping the agenda legally, commercially and socially over the next generation. I am delighted to support the Global Law Summit – it is yet more evidence that Britain continues to lead the way in promoting free enterprise, economic growth, and the rule of law around the world.
Published 23 February 2015
Last updated 25 February 2015
+ show all updates
An image of the Magna Carta has been added
First published.