Two silver awards for the Foreign Office 'Know Before You Go' campaign
Foreign Office travel safety campaign "Know Before You Go" was awarded two silver standard prizes at the Travel Marketing Awards on 24 March.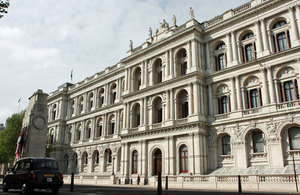 The Know Before You Go campaign aims to help British nationals have safe and trouble free trips abroad by keeping them informed of the necessary travel preparations.
To get the messages across the Foreign Office targets travellers through mini campaigns throughout the year. Two of these campaigns won the silver standard in the affinity marketing category at the awards on 24 March.
'Mess Up, Miss Out'
For this campaign Know Before you teamed up with tour operators Club 18-30, 2wentys, Escapades and Freestyle, targeting their customers with a simple message: if you mess up on holiday then you'll miss out on all the fun.
Research has shown that young travellers aged 18-25 are amongst the most likely to need help in preventable Consular cases. The campaign addressed the problems experienced in popular European holiday destinations such as:
losing passports or money,

travel insurance being invalidated by drinking,

becoming a victim of crime,

getting arrested

taking risks that can result in injury. The aim was to make them stop and consider the consequences of their actions, leading to a reduction in Consular cases.
A total of 167,000 holiday makers travelled with the tour operators during May-September 2010. Emails were sent out prior to holiday makers departing, Reps gave advice in their welcome speeches and address cards, posters and frisbees containing safety messages were distributed. A full page advert in the 2011 Club 1830 and Escapades brochures will also reach a further 410,000 travellers.
'Be On The Ball'
Be on the Ball was a partnership/media campaign targeting the thousands of British football fans who travelled to the 2010 FIFA World Cup in South Africa.
Aspects of the event posed several problems to fans unfamiliar with their surroundings - from laws and customs and security concerns to geographical size and travel infrastructure. Therefore it was necessary to help ensure fans were fully prepared by providing key travel safety messages before they departed, and on the ground. Working closely with post in Pretoria, the FA, ticket providers, tour operators and supporters groups the campaign signed up Ex England player Gary Mabbutt to communicate the issues while providing advice that was easy for fans to act on. The campaign team filmed an advice video from Cricket's Barmy Army (who had previously toured South Africa), produced a "Top Ten Tips" checklist, a pocket guide to South Africa and a dedicated section of the Foreign Office website. Due to its success, the "Be On The Ball" theme is now being used on other campaigns, such as the upcoming Rugby World Cup in New Zealand.
Know Before You Go Campaign Manager Lynda St Cooke said:
"It is great to see these two campaigns being recognised. The safety of British travellers is always our number one priority, and we know that these campaigns were successful not only in winning the awards but in helping to reduce preventable problems for British travellers overseas. The awards clearly reflect the dedication and ability of the Know Before You Go team."
Published 25 March 2011