Press release
Two sentenced for illegal waste crimes
Gateshead compound was used to illegally store and burn waste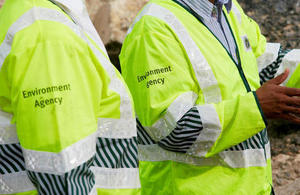 Two men have been sentenced after a Gateshead compound was used to illegally store and burn waste.
Tony Smith, 22, of Pensher Street East in Felling, Gateshead, and Barry Howourth, 53, of Chaucer Close in Gateshead, appeared at Gateshead Magistrates' Court on Wednesday, September 30 for sentence.
Smith previously pleaded guilty to three offences of operating an illegal waste site dating from March 23, 2014. He was sentenced to a 12-month community order with 12 months supervision and 200 hours of unpaid work in the community. He must also pay £1,000 costs.
Howourth previously pleaded guilty to two offences of knowingly permitting the operation of an illegal waste site dating from May 22, 2014. He was fined £1,200 and ordered to pay £1,000 costs.
Acting on behalf of the Environment Agency, solicitor Chris Bunting told the court that Howourth owned a compound at Carlisle Street in Felling, which Smith leased, and then used it to take in waste.
Evidence was seen of the storage and breaking of scrap vehicles and mixed waste being stored and burned at the site.
On March 24, 2014, Environment Agency officers attended the site, witnessing mixed construction waste, wood, garden waste as well as household goods such as a freezer and washing machine. A number of scrap vehicles were also on the site.
During the following weeks, several visits were made to the site where evidence was found of waste being burned illegally.
Despite repeated warnings and enforcement action from Environment Agency officers, activities continued at the site for a number of months.
Both Smith as the tenant and Howourth as the landowner were advised to clear the site by June 13, 2014, which didn't happen.
Over the following months officers visited the site and saw new waste being deposited, along with a fire damaged container.
The Environment Agency's Dave Edwardson said:
We made repeated attempts to advise both Howourth and Smith that the activity was illegal, but requests and subsequent enforcement action were repeatedly ignored.
Activities at the site – like breaking vehicles and storing waste – require a permit to ensure any impact on the environment is closely monitored.
Illegal waste sites such as this can be detrimental for both the environment and local communities, as well as undermining legitimate businesses.
We'll continue to take enforcement action to make sure businesses are operating within the regulations.
In the course of their investigation, Smith was obstructive towards Environment Agency officers and in April this year he was given a six-month conditional discharge and ordered to pay £100 costs and a £15 victim surcharge for two counts of intentionally obstructing an environment officer.
To report illegal waste activity contact independent charity Crimestoppers anonymously on 0800 555 111.
Published 1 October 2015