Press release
Two major improvements for the M27 to start near Southampton, Hampshire
Work will start next week on the first of two major improvements on the M27 near Southampton.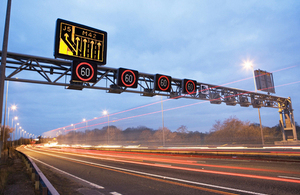 The upgrade to junctions 3 and 5 are part of the Government's £317 million pinch point programme on motorways and major trunk roads to be delivered by 2015. They are part of the biggest programme of road enhancements since the 1970s and will reduce congestion, increase safety and improve journey times.
The improvements at both junctions will see additional lanes added on some approach roads and sections of the roundabouts as well as new traffic signals to increase capacity. The work will involve narrow lanes with reduced speed limits and overnight closures. It is due to be completed, weather permitting, by Spring 2015.
Highways Agency Project Sponsor Ed French said:
The additional capacity on these two busy junctions will allow the roundabouts to work more efficiently to reduce congestion and improve journey times. We will widen certain approaches and install new traffic signals to improve the flow of traffic for the thousands of drivers at both junctions.

We have planned the work carefully to minimise disruption and will carry out as much of the work as possible overnight, when traffic flows are at their lowest. I advise anyone wishing to use either junction to plan their journeys and to allow extra time.
Improvements at junction 5 will start on Monday 4 August. The approaches from the eastbound exit slip road and Stoneham Lane will be widened and a segregated slip road added from the A335 onto the eastbound entry slip road. Traffic signals will be added at the Stoneham Lane and A335 entry onto the roundabout.
Improvements to junction 3 will start at the end of September, after the Southampton Boat Show, and will see the westbound exit slip road and southbound M271 widened to three lanes. Traffic signals will be added on the roundabout for the southbound M271 entry onto the roundabout.
Both schemes will be completed by Spring 2015.
General enquiries
Members of the public should contact the Highways Agency Information Line on 0300 123 5000.
Media enquiries
Journalists should contact the Highways Agency press office on 0844 693 1448 and use the menu to speak to the most appropriate press officer.
Published 31 July 2014