World news story
Two late XVIII century maps to be presented in Arequipa
Copies of these Peruvian maps, found in the British Library, are to be delivered by the Hon. British Consul Francis Rainsford.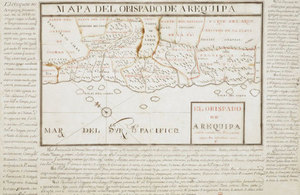 Shortly before Easter, British Consul in Arequipa Francis Rainsford will deliver two copies of the antique maps to Arequipa's Archbishop Monsignor Javier del Rio Alba. The event will take place in the Archbishopric's Pastoral Centre, Juan Pablo II. The first map is dated 1767 and is referred to as "Mapa del Obispado de Arequipa", the second is titled "Mapa del Obispado de Arequipa, dividido en todos sus partidos por su Gobernador Intendante D. Antonio Alvarez y Ximenez, Año 1787" and both were acquired in the XIX century by the British Museum and Library in England.
In this regard, the ceremony will be held to celebrate the discovery of these late XVIII century documents recently found in London at the end of 2013. "Bringing home copies of maps that haven't been seen in Arequipa since the 1840s is a very important moment in the socio-religious history of the city," Mr Rainsford says. "Pictorial documents are always of more interest to the public and the plan is to put them on display in the Cathedral Museum for the enjoyment and education of all."
Both antique photographic copies were obtained thanks to the efforts of Peruvian Archaeologist Dr Alexandra Morgan in London - who verified the study of the maps in question - and Mrs Claudia Black (one of Mr Rainsford's sisters in the UK) as well as technical assistance provided by Mr Juan Roca Gamarra in Arequipa. Their discovery came to light when Mr Rainsford was searching for two of the earliest diocesan maps of the Bishopric of Arequipa, one entitled "Plan de Curato de Sta. Cruz de Caiollma" and the other, a plan for a monastery in Quilca, that were stolen from Arequipa in the 1990s.
These particular maps are still missing and believed to be somewhere in the United Kingdom.
Published 10 April 2014