World news story
Twenty-Third Session of the Universal Periodic Review, Geneva, 2 to 13 November 2015
The UK delivers its statement on the Universal Periodic Review of Burma, 6 November 2015.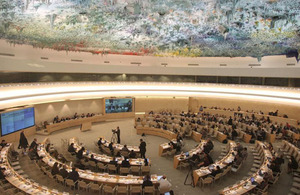 Thank you Mr President
While there has been very significant progress in the country, many concerns remain, especially mistreatment of the Rohingya, addressing inter-communal tensions, and resolving the conflict through a comprehensive and inclusive political dialogue.
We have two recommendations:
Urgently address the needs of the Rohingya community by: guaranteeing security, ensuring full humanitarian access across Rakhine, removing restrictions on freedom of movement, and establishing a pathway to citizenship.

Implement the National Action Plan for the Advancement of Women by: amending legislation to include sexual violence in conflict within the Preventing Sexual Violence Law, removing military impunity for human rights violations - including sexual violence - and appointing a Gender Advisor within the President's Office.
On Sunday, the people go to the polls. A vote that is credible, inclusive, transparent and which represents the will of the people would stand as a lasting legacy for the government.
Thank you.
Published 20 November 2015