World news story
Twenty-Third Session of the Universal Periodic Review, Geneva, 2 to 13 November 2015
The UK delivers its statement on the Universal Periodic Review of Rwanda, 4 November 2015.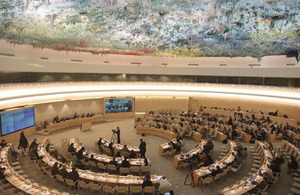 Mr President,
Rwanda has a strong track record on economic and social rights. But development also requires commitment to civil and political rights. We echo UN Special Rapporteur Mainia Kiai's conclusion that "a society without room for critical voices speaking freely and peacefully is unsustainable".   We are concerned by allegations of government interference and other constraints encountered by NGOs working on human rights, including difficulties in registering.   A free and vibrant media is crucial to democracy. We hope Rwanda will continue its media reform and we urge them to foster a culture of openness to tackle harmful self-censorship.   We recognise Rwanda's contribution to regional peace and security. However, reports of recruitment of refugees into armed groups are concerning, as are reports of enforced disappearances, irregular detention and mistreatment of individuals in custody. 
We recommend that the Government:
Uphold its responsibility to ensure the civilian nature of camps by implementing its humanitarian obligations in line with the 1951 Convention relating to the Status of Refugees
Comply with existing laws on detention and implement further legislation to regulate 'transit' and 'rehabilitation' centres.
Published 5 November 2015