World news story
Twenty-Second Session of the Universal Periodic Review, Geneva, 4 to 15 May 2015
From:

Part of:

Published:

6 May 2015
This was published under the 2010 to 2015 Conservative and Liberal Democrat coalition government
UK Statement on the Universal Periodic Review of Panama, 6 May 2015.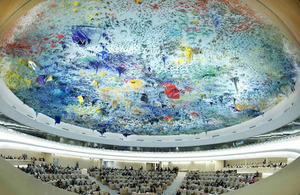 Thank you Mr President,
The UK thanks Panama for its continued engagement with the UPR process and recognises progress since the last review, in particular steps to prevent the ill-treatment of detainees, improve the criminal justice system and reduce pre-trial detention.
The UK welcomes Panama's ratification of the Optional Protocol to the Convention Against Torture and the progress being made on drafting a National Preventive Mechanism. We urge Panama to conclude this process as soon as possible.
We welcome the steps taken by Panama to protect the rights of Indigenous peoples by enacting legislation and working on their inclusion in decision making processes. However, concerns remain over the respect for these laws and whether justice is being delivered consistently to those who contravene them.
Overcrowding in prisons continues to be a problem in Panama with large numbers being held on pre-trial detention. A positive step would be to apply the adversarial criminal justice system, which although in use in some provinces, is pending in many others.
The UK notes that anti-discrimination is enshrined in Panama's constitution. However, we would encourage Panama to ensure it covers discrimination on the grounds of sexual and gender identity.
We have two recommendations:
Conclude the drafting of and adopt the National Preventive Mechanism against torture and other ill-treatment in accordance with the Optional Protocol to the Convention Against Torture; and

Implement the adversarial criminal justice system throughout Panama.