World news story
Twenty-Fourth Session of the Human Rights Council, Geneva, 9 to 27 September 2013
UK Statement on Countries of Concern delivered by UK Ambassador, Karen Pierce.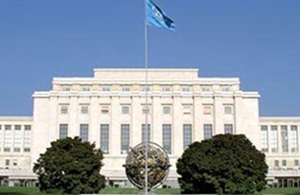 Thank you Mr President,
The UK remains seriously concerned about the deteriorating human rights situation in Syria. We continue to call on all sides to put an immediate end to the violence. The regime's use of Chemical Weapons against the Syrian people in Ghouta illustrates the urgent need for political solution to end the crisis and hold perpetrators of Human Rights violations to account.
Reports indicate that in 2013 there have been over 240 executions in Iran and continued persecution of minority groups including the Baha'i. The UK calls on Iran to respect the rights of all its citizens.
We welcome some human rights progress in Burma. We continue to call on the government to counter rhetoric inciting violence against Muslim communities and ensure accountability. Further action is needed to resolve citizenship for the Rohingya. And we call again for the opening of an OHCHR country office with a full mandate.
China has pledged to guarantee the lawful rights and interests of ethnic minorities as part of its bid for re-election to this Council. The UK urges China to ensure the Constitutionally-guaranteed rights of freedom of assembly and demonstration are fully protected, including in ethnic minority areas.
The UK has grave concerns over the recent elections in Zimbabwe including incidents of harassment against NGOs, human rights defenders and opposition political activists. We call on the new government to respect the human rights of all Zimbabweans.
The UK is concerned about impunity in Sudan. All parties must cease hostilities and allow full humanitarian access immediately. We urge Sudan to ensure increased room for political debate ahead of elections in 2015.
We call on the DPRK to cooperate with the Commission of Inquiry and to engage in UPR and on Eritrea to cooperate with the Special Rapporteur.
Thank you Mr President.
Published 17 September 2013