Twelve blogs of Christmas - seasonal travel advice from the Foreign Office
British Consular staff around the world write about the highs and lows of holiday travel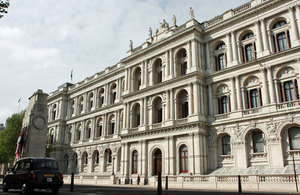 From snowmobiling in Lapland to safaris in Kenya, British travellers are going further than ever in search of the perfect winter break.
For Foreign Office consular staff around the world providing support to Britons abroad, the holiday travel season brings its own challenges.
During 2009, British Embassies, High Commissions and Consulates received over 1.9 million consular enquiries and dealt with almost 20,000 serious consular assistance cases. A significant proportion of these occur during December and January, as Britons go looking for winter sun, or enjoy family reunions around the world.
Starting on 1 December, twelve Foreign Office consular bloggers will be writing about their experiences of helping British travellers, and sharing their tips for a safe and enjoyable winter trip.
Laura Hakala, Vice Consul in Helsinki, opens the blog with icy adventures in Lapland and how to get married in an igloo. Every winter, as many as 200,000 Brits travel to Finland to meet Santa Claus, go skiing, snowmobiling, ride reindeer pulled sleighs or experience a husky safari.
Laura will be joined by consular bloggers from Peru, Cyprus, New York, Thailand, India, Australia, France, Spain and Kenya.
You can read more from Foreign Office bloggers in Global Conversations, and get travel advice for your destination on the Foreign Office website.
Published 1 December 2010