TV volunteers show mediation works better
Volunteers who are using mediation to heal community rifts have featured on national television.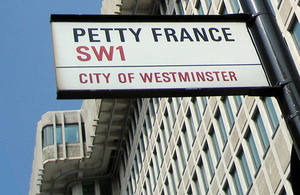 The team from Manchester are the focus of a new television series which follows them as they help neighbours locked in long-term conflicts over issues like playing loud music, bad parking and overgrown hedges.
Mediation is often a quicker and cheaper way of resolving disputes and stops people having to go through the anxiety of attending court.
Visiting the city to meet the team, Justice Minister Jonathan Djanogly said the project was an example of communities taking the initiative to sort out their own problems in a way that suits them, instead of letting them deteriorate into legal battles - something the Government has been actively promoting.
Mr Djanogly said: 'Too many people assume they can only resolve disputes by going to court, which is expensive, stressful and does not always result in the best outcomes.
'Here in Manchester people are demonstrating there are better ways to solve their problems.
'Mediation helps people stop fighting and start finding solutions that work for all involved. In family disputes, research shows it can take a quarter of the time and only cost a quarter of the price of going to court.' 
 
Service manager Veronica Dawson added: 'We often go out on cases where both parties will start off saying they can't even go into a room with the other one, but by the time you've finished they have sorted it out between them, are on friendly terms and can use that to deal with any problems in the future.'
The Government has made a series of moves recently to encourage people and businesses to take responsibility for their own disputes, rather than turn to lawyers and judges to resolve issues.
This includes new rules which ensure separating couples can try mediation before deciding whether to take their dispute to court.
The Government is also increasing spending on mediation for private family law by two thirds, or £10 million, to £25 million each year.
Next Door Nightmares on Sky 1, 12 and 19 July at 8pm.
News release: Manchester's TV star volunteers show how mediation works better

Published 8 July 2011