News story
TV helping promote entrepreneurship as a career
The 'Impact of Media on Entrepreneurial Intentions and Actions' report supports the view that media portrayals of enterprise are promoting more…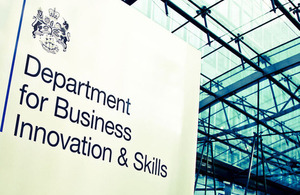 The 'Impact of Media on Entrepreneurial Intentions and Actions' report supports the view that media portrayals of enterprise are promoting more positive social values towards entrepreneurship, with one in five non-entrepreneurs being motivated to start their own business having watched programmes such as Dragon's Den, The Apprentice and The Secret Millionaire.
Nearly nine out of ten established entrepreneurs surveyed also believe programmes are making people think more positively about entrepreneurs and the same proportion feel they make people want to start their own business.
Business and Enterprise Minister Mark Prisk said:
"The media has such an important role to play in creating a positive image around entrepreneurship and starting your own business. It is very encouraging to see such a dramatic shift in recent years. And I hope this trend continues.
"The Government is focused relentlessly on supporting growth across our economy. Backing and encouraging new enterprises to start up, and small businesses to grow, will deliver new jobs and transform our economy.
"We need to inspire the next generation of entrepreneurs, showing them the ambitions they can realise in business. The media can play a crucial role in this."
The report, which involved a re-survey of 1,250 respondents from the GEM UK 2009 Adult Population Survey (APS), shows:
Around half the sample of non-entrepreneurs thought more positively about entrepreneurs in general (58 per cent) and were made more aware of a career as an entrepreneur (51 per cent) through the media.
Almost two-thirds (63 per cent) of all non-entrepreneurs had come across the use of the word 'entrepreneur' or 'entrepreneurship' in recent months.
Of those saying yes, just over half (54 per cent) reported that television was where they came across the terms most often.
Almost half (45 per cent) of non-entrepreneurs also said they had watched television programmes in the last 12 months which showed how to start or run a business.
The research also found an educational role being played by media portrayals, with two-fifths (40 per cent) saying programmes had shown them the practical steps to start a new business.
The study was commissioned by BIS to gain insight into what effect the media's portrayal of entrepreneurs is having on entrepreneurial attitudes, aspirations and activity.
Notes to editors:
---
The full report can be found at: http://www.bis.gov.uk/policies/enterprise-and-business-support/analytical-unit/research-and-evaluation/globally-competitive-business-environment

A new framework for business improvement was recently launched to give small businesses and aspiring entrepreneurs the advice and help them need to start and grow. The Government is improving and modernising how information is provided to businesses and a new mentoring network will be launched in June, which will give entrepreneurs and business people access to help from real business people.

Online business information is also being overhauled, bringing all the tools that people need into the new www.businesslink.gov.uk website.

BIS' online newsroom contains the latest press notices, speeches, as well as video and images for download. It also features an up to date list of BIS press office contacts. See http://www.bis.gov.uk/newsroom for more information.
Notes to Editors
Contact Information
Name BIS Press Office Job Title
Division COI Phone
Fax
Mobile
Email NDS.BIS@coi.gsi.gov.uk
Name James Platt Job Title
Division Department for Business, Innovation and Skills Phone 020 7215 5978 Fax
Mobile
Email james.platt@bis.gov.uk
Published 14 March 2011