World news story
Turks and Caicos Islands' governor dives to inspect reef damage
Repairs to an anchor damaged reef off North West Point, Providenciales, were inspected by Governor Ric Todd, today, Thursday, 18 April 2013.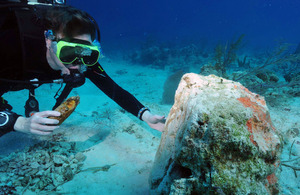 Charges have now been brought against the captain and engineer of the M.Y. White Cloud under the Turks and Caicos Islands (TCI) National Parks and Fisheries Protection laws.
These include anchoring a vessel greater than 60 feet in length outside an approved anchoring zone in the North West Point Marine National Park and for causing anchor damage to coral reef structures.
A notice of seizure of the vessel was served under both sets of laws pending the determination of the charges. It is hoped to recover the costs of the conservation and restoration of the reef from the yacht's insurers.
Governor Todd was guided on his dive by Kathleen Wood, director, Department of Environment and Maritime Affairs (DEMA) in the TCI Government.
"Clearly, maintaining a pristine environment here in the TCI is both the right thing and also vital to the continued prosperity of the Territory," said Todd, who took up scuba diving off Grand Turk when he first arrived in the TCI in September 2011.
"I sincerely thank the captains of the passing dive boats who reported this incident to the Department of Environment and Maritime Affairs DEMA. Each and every one of us must play our part, as they did, in ensuring that we keep these island beautiful by nature for future generations.
"Dealing with this incident has been a real collective effort by a team of volunteers from the community, assisted by resident marine biologist Marsha Pardee, who secured the damaged soft and hard corals to prevent further damage and losses.
"Assistance too has been provided by the reef's neighbour, the Amanyara Resort, and the TCI Cabinet, who approved emergency funding to allow this work to be carried out promptly.
"While the ongoing rescue efforts cannot restore the reef to its previous ecological value and natural beauty, the DEMA plan to cement the secured corals back into place will help ensure no further loss from this unfortunate incident."
Published 18 April 2013