World news story
Turks and Caicos Islands flag flies over FCO on National Heroes Day
From:

Part of:

Published:

28 May 2013
This was published under the 2010 to 2015 Conservative and Liberal Democrat coalition government
The TCI flag flew over the Foreign Office in London today in honour of the UK overseas territory's National Heroes Day.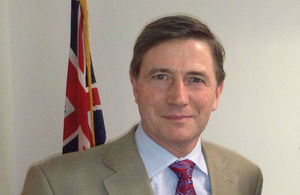 Turks and Caicos Islands' National Heroes Day takes place on the last Monday in May and commemorates the territory's first national hero James Alexander George Smith McCartney.
Known as 'Jags' McCartney, he was the Island's first Chief Minister, holding that position from August 1976 until 9 May 1980, when he died in a plane crash. Taking office at the age of 31 years, McCartney remains one of the world's youngest democratically elected leaders.
The Foreign and Commonwealth Office made a commitment to all 14 of its Overseas Territories (OTs) that their flags would each fly over its offices once a year, and across London on formal state occasions. This date was chosen by the TCI Cabinet including his excellency the governor, the premier, ministers, deputy governor and attorney general.
The commitment was made when the UK government published its Overseas Territories White Paper in 2012. This set out how the UK saw its relationships with the OTs, and looking to improve joint security, sustainability and success.
The flag of the Turks and Caicos is similar in design to those of the other OTs in that it is based on the Blue Ensign, with the Union Flag in the top left corner and a local crest, in this case the TCI coat of arms featuring a queen conch shell, a lobster and a Turks Head cactus.
The UK Overseas Territories are: Anguilla; Bermuda; British Antarctic Territory; British Indian Ocean Territory; British Virgin Islands; Cayman Islands; Falkland Islands; Gibraltar; Montserrat; Pitcairn Islands; St Helena, Ascension and Tristan Da Cuna; South Georgia and the South Sandwich Islands; Sovereign Base Areas of Akrotiri and Dhekelia; Turks and Caicos Islands.