World news story
Turks and Caicos Islands begins sovereign credit rating process
From:

Part of:

Published:

20 May 2014
This was published under the 2010 to 2015 Conservative and Liberal Democrat coalition government
Unity and prudence were the Minister of Finance's watchwords as he briefed the House of Assembly on the TCI refinancing strategy.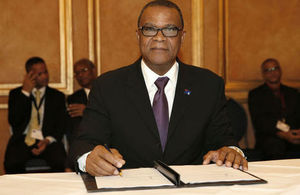 The Hon. Washington Misick's briefing took place as the TCI enters into a crucial 18 month period during which the country will achieve its own sovereign credit rating and take on responsibility for its outstanding debt in February 2016 when the current UK loan guarantee expires.
Members from across the House and those in the public gallery heard initially how the original $260m UK loan guarantee was calculated in 2011. Without this UK guarantee no lenders were prepared to offer financing to the TCI, and the interest rates of between 0.5% and 3.2% were lower than those that TCI had previously been able to access independently, saving the country millions of dollars between the years 2011-2016.
Although the UK guarantee is for $260m, TCI has drawn on $179m of this facility to date. It has already paid $58m into the sinking fund which will be used to pay bond holders, leaving a net guaranteed debt today of $121m. Through the TCI Government's continued good governance and new revenue measures it is hoped to have between $80-100m in the sinking fund by 2016, leaving $80-100m of debt that requires to be refinanced.
Minister Misick said:
Our proposed revenue measures will be used to ensure that the TCI runs a budget surplus, which in addition to helping to pay down the debt, demonstrates to the global finance community that the TCI is a well governed, responsible nation, that they can lend to with confidence.
That is why we very much welcome the recent joint approach of the Government and the Opposition in tackling our debts promptly and prudently.
We owe it to our children and our children's children to secure the very best refinancing package that we can for these Islands. We must continue upon our course of prudent financial stewardship for our future generations. If we do not we will have to pay higher rates which cost all of us millions of dollars in additional interest each and every year, these monies being lost to our public spending plans for years to come.
The House also heard how the first step in the refinancing had already begun with the appointment of global rating agency Standard & Poor's to issue TCI's first sovereign credit rating in summer 2014. Once this rating is published the TCI Government plans to start to rebuild its reputation with the international finance markets so as to obtain a refinancing package on the best terms available in 2016.
The UK loan guarantee was calculated in 2011 as follows: repay inherited TCIG bank loans ($77.9m); repay DFID's short term loan used to fund government salaries ($48.1m); repay unpaid bills ($33.8m); refinancing fees ($0.4m); and to provide TCIG with a cash 'float' ($4.8m); totalling approximately $170m. It also then made allowances for potentially refinancing old high interest bonds ($30m), the projected 2011/12 deficit ($32m) and some 'headroom' of $28m), taking total available debt under the guarantee to $260m.