World news story
Turkey Prosperity Fund call for project proposals is now open
Projects in the field of Transparency, Low Carbon Economy, Financial Service and Science and Innovation are welcome.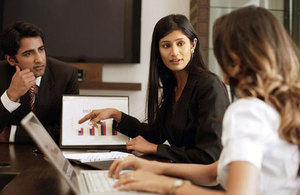 The Bidding Round for Turkey opened on 01 March 2016. Bidding deadline is 4 April.
Detail
Prosperity Fund
The 2015 Strategic Defence and Security Review announced a £1.3bn Prosperity Fund over the next 5 years to promote the economic reform and development needed for growth in partner countries. Our priorities will include improving the business climate, competitiveness and operation of markets, energy and financial sector reform, and increasing the ability of partner countries to tackle corruption. As well as contributing to a reduction in poverty in recipient countries, we expect these reforms to create opportunities for international business including UK companies.
The role of the Fund is also set out in the UK aid strategy, Tackling Global Challenges in the National Interest.
The Prosperity Fund will form a small but integral element of the UK's total Official Development Assistance (ODA) commitment of 0.7% of GNI. It will primarily be focused on ODA eligible middle income countries, contributing to poverty reduction and complementing DFID's work in poorer countries. In this way, the Fund will contribute towards meeting the new Sustainable Development Goals. ODA spend under the Fund will be fully consistent with OECD DAC criteria.
The Foreign & Commonwealth Office's programme funds seek to create real, measurable outcomes in support of the FCO's policy goals. Since 2011, the Prosperity Fund has supported the FCO's Prosperity Priority on opening markets, ensuring access to resources, and promoting sustainable global growth, mainly in the emerging powers.
Turkey Bidding Round
The Guidance for Potential Implementers for Turkey sets out the arrangements for the bidding process for these projects, including rules governing ODA expenditure under the Fund. Decisions on initial country allocations will be taken in early 2016.
Turkey Prosperity Fund Objectives
In Turkey, our initial bidding process invites bids in the areas of Transparency, Low Carbon Economy, Financial Services and Science and Innovation. The Turkey Prosperity Fund 2016-2017 Objective Document sets these out in further detail.
Project proposals in these specific areas will be considered for funding.
We expect the earliest possible start for projects to be on 1 May 2016.
Supported projects will end latest on 15 March 2017.
Application Instructions
Applications under this call will close on 4 April 2016.
To apply, please download, complete and send:
Part A of the Project Proposal Form (full bid) (in MS Word format)

An Activity Based Budget (in MS Excel format) see example in the Guidance for Potential Implementers for Turkey

Evidence of stakeholder engagement and local buy-in

Any additional supporting document you may wish to provide to hande.ozut@fco.gov.uk by 4 April 2016. Do take note that Project Concept Forms are not used in the Turkey Bidding Round.
Please make sure you include a signature and the printed name and title of the person submitting the form. An electronic signature will be accepted.
Please also make sure that you are familiar with how proposals are assessed in the Guidance for Potential Implementers for Turkey document.
Do also familiarise yourself with the Standard Grant Contract before applying.
Feedback on draft project proposals before submission
We strongly encourage you to seek feedback from the British Embassy. If you are new to the Prosperity Fund, please send your request to hande.ozut@fco.gov.uk or call +90 312 455 3234.
Do come prepared with a draft project proposal and do seek feedback early. We will not entertain requests for feedback that are not accompanied by a draft proposal and due to time constraints, may not be able to provide substantive feedback if these reach us after 25 March 2016.
Turkey Bidding Timeline
Project Proposals
call for project proposals open 1 March 2016 – 4 April 2016
applicants can expect to be notified of results in the week commencing 25 April 2016
Project Commencement and finalization
contracts will be signed with successful project implementers and projects can expect to start as early as 1May 2016
all projects must be finalised by 15 of March 2017
Contact
If you have further enquires that are not answered, then please contact to hande.ozut@fco.gov.uk
Published 1 March 2016