News story
Turbo boost for apprentices fundraising
Apprentices raise £2,000 for local causes.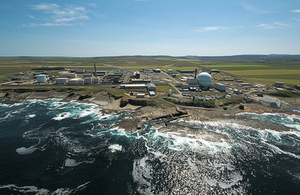 To kick start their latest unique fundraising challenge Dounreay's apprentices attached themselves to 'turbo trainers' fastened to bikes situated around the site earlier this month.
Four teams of cyclists were positioned in the Welcome Break, FCA, PFR and the workshops.
The aim of the game was to 'travel' as far as possible over the course of the day which started at 9am with the teams peddling away until 3pm.
For £1 a shot, staff were invited to guess the total distance travelled by all four teams during the day, with the winner receiving a £50 meal voucher kindly donated by DSRL – plus there was a bonus ball competition to top up the fundraising pot.
The apprentices raised over a whopping £2,000 from their peddling power, tallying up a respectable 436 miles in total.
The money raised is being shared across all Caithness under 7 football clubs to help towards the purchase of new equipment and football strips for the youngsters.
Apprentice training's Carol Robertson explained: "We're very proud of the way our apprentices commit to our fundraising and help us raise a large amount of money to support our local clubs and charities. As the Scottish sunshine eludes us this summer they were happy to be inside rather than doing their usual annual sponsored walk into Thurso!
"Well over a thousand people have served their time as apprentices at Dounreay and the money raised over the years is a fantastic achievement they should be extremely proud of."
Published 25 July 2012