World news story
Tunisia as a Model in Democratic Transition
Sharing Tunisia's achievements and challenges through its democratic transition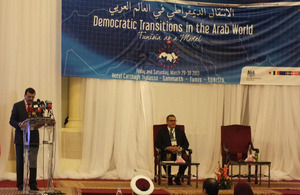 'Democratic Transitions in the Arab World: Tunisia as a Model' was the theme of the second International Conference on Islam and Democracy that took place in Tunis, 29 – 30 March. The event was organised by the Centre of Islam and Democracy (CSID) as part of the Arab Partnership initiative led by the UK to support political change and economic growth in Tunisia and the MENA region.
The conference was opened by Prime Minister Ali Laarayedh, with speeches from Ennahda leader Rached Ghannouchi and Nida Tounes' Secretary General Tayeb Baccouche.
Getting Ghannouchi and Baccouche together on a shared platform was a first for Tunisia. They demonstrated that two political enemies could present arguments and counter-arguments for their positions, in a respectful manner, using diplomatic and non-accusatory language.
The sessions touched on a range of subjects including transitional justice, security sector reform, building dialogue between secularists and Islamists, and designing a new political system, amongst other issues. Each session drew on experience from across the globe, and included international academic experts such as Tarek Ramadan and a range of political representatives.
The conference offered space for discussions and network building in the margins which was of great value in helping shape and share ideas on how to support Tunisia – and other countries in the region - through their transition periods.
For more information
Published 18 April 2012