World news story
Tuberculosis testing in China
Tuberculosis testing in China will extend to all long-term visa applicants on 31 December 2013.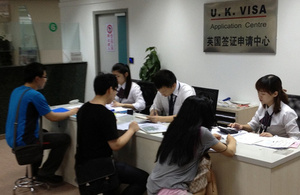 UK Visas and Immigration has today announced that it will be extending pre-entry tuberculosis (TB) screening in China, starting on 31 December 2013, to anyone travelling to the UK for longer than 6 months.
Those applying for settlement in the UK are already required to undergo pre-entry TB testing as part of the visa application process.
This follows the UK Government's announcement in May 2012 that it would be extending this requirement to an additional 67 countries and regions, including China, based on the figures for high TB incidence provided by the World Health Organisation.
This brings the UK into line with the practice of a number of other countries including the US, Canada, Australia and New Zealand.
Further details can be found in the news article published on the UK Visas and Immigration China web pages.
Pre-entry TB screening is not required for those going to the UK as a tourist or other type of visitor, except for those applying for a fiancé (e) visa.
It will be required for all individuals in China who are applying for a UK visa which is longer than 6 months including those applying for a Tier 4 student visa. The process will require individuals to be screened and obtain a certificate from an UK Visas and Immigration approved health centre in China to show that they are free of TB before they make a UK visa application. They will need to include the TB certificate with their visa application.
The extension of pre-entry TB screening to all long-term visa applicants (except settlement applicants) will begin from 31 December 2013. Settlement applicants already require a TB test prior to making a visa application.
Applicants who require pre-entry TB screening should contact one of the approved clinics to schedule an appointment for screening. A fee for the screening will be payable directly to the clinic.
Further details of the approved health centre facilities available in China are on the UK Visas and Immigration website.
Published 21 November 2013