News story
Troops get set to manoeuvre onto Salisbury Plain
Some 400 soldiers are getting ready to manoeuvre onto Salisbury Plain to take part in a week-long final pre-deployment training exercise.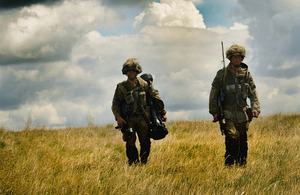 Exercise Pashtun Warrior is being run specifically for the Op Herrick Armoured Infantry Company to enable them to develop their tactics, techniques and procedures prior to heading overseas to Afghanistan.
The exercise is being designed and delivered by the Field Training Unit (FTU) and HQ 4th Battalion The Royal Regiment of Scotland, with input from 7th Armoured Brigade HQ and theatre subject matter experts.
It will also provide an opportunity for the Brigade Ops Company and Warthog Group to conduct manoeuvre training under the direction of HQ Brigade Manoeuvre Group.
Troops will not use live ammunition on the training, which will feature battle exercises and company missions. It is being conducted and evaluated using tactical engagement simulation and is the final exercise before the Armoured Infantry Company deploys to Afghanistan.
Talking about the training exercise, Major Tim Davies, from the FTU, said:
We are very much looking forward to delivering training on Salisbury Plain next week. It will give the soldiers an opportunity to further develop and consolidate their tactics and techniques in advance of their deployment.

Salisbury Plain is the ideal setting for this exercise as it offers the facilities and diverse terrain required for such training.
Salisbury Plain Training Area is maintained by the Defence Infrastructure Organisation (DIO), which delivers the training service, enabling defence training users to live, work, train and deploy at home and overseas.
Lieutenant Colonel Mark Hiskett, Principal Training Safety Officer, DIO Ops Training South West, said:
DIO's priority is to support our Armed Forces as they prepare for operations. The size and nature of the Plain means that it offers the only location in the UK capable of supporting complex and technical mission-specific training such as Exercise Pashtun Warrior.
At over 38,000 hectares (94,000 acres) Salisbury Plain is the UK's largest training area and offers first-class and diverse training facilities to enable the British Army to meet its training requirements to prepare for operations worldwide.
Published 4 July 2013