Troops enjoy England international at Wembley
More than 1,000 troops, including soldiers, sailors, airmen and Royal Marines, enjoyed a night of international football at Wembley Stadium thanks to Tickets for Troops.
Free tickets were distributed by Tickets for Troops for the England World Cup warm-up match at Wembley on Monday 24 May, when England secured a 3-1 victory over Mexico.
The troops were encouraged to attend in uniform and many were given prime seats in line with the half-way line opposite the dugouts.
Before the game the troops were given a round of applause by the crowd and players, and a single representative from each of the three Services - Royal Navy, Army and Royal Air Force - took to the pitch for the presentation of the players.
It was the first event where Tickets for Troops had offered tickets for an event at Wembley Stadium.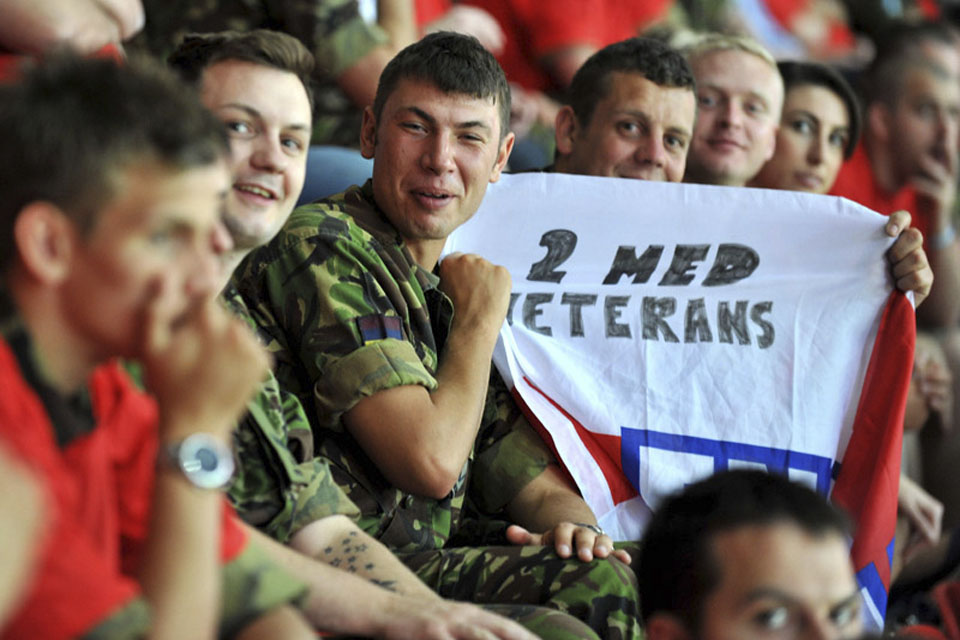 Lord Marland, Chairman of Tickets for Troops, said:
It's fantastic that the FA [Football Association] has got behind Tickets for Troops. Football is so popular with our Armed Forces and to have over 1,000 tickets to an England international is fantastic. The tickets were taken up in a very short period of time.
So far we have given away 100,000 tickets to 55,000 troops and their families. We started in November last year, so in six months it shows the strength of feeling people have towards supporting our Armed Forces and their families for the courageous work they are doing.
Sergeant James Wase, of 7th Parachute Regiment Royal Horse Artillery, currently an instructor at the Royal School of Artillery in Larkhill, who was experiencing the new Wembley for the first time, said:
It's brilliant, absolutely fantastic the support we are getting from Tickets for Troops.
But showing his support for the England team, he said:
At the same time, it's the final result in the match that matters to me.
Published 27 May 2010