News story
Triple tonne triumph
Sellafield's Pile Fuel Storage Pond has passed an important point in its clean-up journey with the removal of 300 tonnes of solid waste from the legacy pond.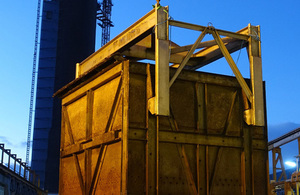 When retrieval operations in the Pile Fuel Storage Pond began in 2012 there was an estimated 750 tonnes of bulky waste items to remove, including redundant equipment and discarded skips.
The 300 tonne mark was achieved in November with the removal of the 89th skip.
There are now 97 skips remaining, which along with the other bulky waste should be fully removed and in safe interim storage by 2024.
A fit-for-purpose approach to removing intermediate level nuclear waste in simple shielded containers has helped find new routes out for waste which we previously couldn't remove.
Head of Pile Fuel Storage Pond Operations, Rob Smith, said: "Our mantra has always been 'first filled, first empty' and this is an important step in our journey. Every skip removed is a skip closer to us emptying one of the most highly-hazardous areas of the Sellafield site."
Published 5 December 2018