Press release
Tribunal Procedure Committee appoints new members
The Lord Chancellor in consultation with the Lord Chief Justice announced the appointment of Simon Cox and Michael Reed.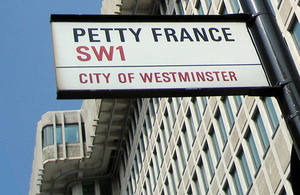 We are pleased to announce that Simon Cox and Michael Reed have been appointed by the Lord Chancellor in consultation with the Lord Chief Justice to be members of the Tribunal Procedure Committee (TPC) for 3 years. These posts are unpaid.
The appointments process has been conducted in accordance with the Commissioner for Public Appointments Code of Practice on Ministerial public appointments to public bodies.
The Tribunal Procedure Committee (TPC) was established on 19 May 2008 under the Tribunals, Courts and Enforcement Act 2007 (TCEA). Its purpose is to make rules governing the practice and procedure for the First-tier and Upper Tribunals.
The TCEA requires the Lord Chancellor-appointed members to be persons with 'experience of practice in tribunals, or experience of advising persons involved in tribunal proceedings'. Other members of the TPC are judiciary from each of the tribunals; a tribunal member; and a person with experience in and knowledge of the Scottish legal system. The Lord Chancellor appointments are, therefore, important for bringing a user focus when Tribunal Procedure Rules are being discussed and made.
The TPC has a large remit and differs from other rule committees sponsored by the Ministry of Justice in that it is responsible for 9 sets of Tribunal Procedure Rules, covering 11 very diverse chambers in the First-tier and Upper Tribunals.
These chambers cover a wide variety of jurisdictions and appeals such as immigration, war pensions, tax, social security, mental health and transport. Members are therefore expected to have sufficient knowledge and understanding of the tribunals in operation to address the variety of subject matter.
When developing new rules the TPC is guided by the following principles:
to make the rules as simple and streamlined as possible
to avoid unnecessarily technical language; to enable tribunals to continue to operate tried and tested procedures which have been shown to work well
to adopt common rules across tribunals wherever possible so that rules specific to a chamber or tribunal are permitted only where there is a clear and demonstrated need for them.
Biographies
Mr Simon Cox
Simon Cox was called to the Bar of England and Wales in 1992. He is employed as the migration lawyer for the Open Society Justice Initiative. In that post he develops, implements and manages legal projects to promote the rights of international migrants worldwide, in particular through access to effective remedies in courts and tribunals.
Before taking up this post in 2011, he was for 15 years at the independent Bar, practicing from Doughty Street Chambers in London.
He specialised in representing individuals before tribunals and courts in the fields of social welfare and immigration. He is a founder member and occasional chair of the Housing and Immigration Group, which looks at legal and practical developments affecting welfare provision to migrants. He co-authored a number of books in the field, including Blackstone's Guide to the Asylum & Immigration Act 2004, Migration and Social Security Handbook (second edition) and Child Support Handbook (fourth to sixth edition).
Before entering practice as a barrister, Simon was employed as the Free Representation Unit's social security caseworker, training and advising volunteer tribunal representatives.
Michael J Reed
Michael Reed has worked for the Free Representation Unit (FRU) as a Legal Officer since 2005. There he trains and supervises volunteers in the Employment Tribunal, Employment Appeals Tribunal, and Court of Appeal. He also runs his own cases. Michael is the co-author of 'Employment tribunal claims: tactics and precedents' which aims to guide new lawyers and litigants in person through the tribunal process.
This appointment was made on merit and political activity plays no part in the selection process. However, in accordance with the Code of Practice of the Commissioner for Public Appointments, there is a requirement for appointees' political activity (if any is declared) to be made public.
Simon Cox has canvassed or helped at election on behalf of the Labour Party. Michael Reed has declared that he has not been involved in any political activity.
Published 9 June 2014