Press release
TRHs The Prince of Wales and Duchess of Cornwall visit Ballymena
The Prince of Wales and Duchess of Cornwall's first engagement of the day brought them to Wrightbus in Ballymena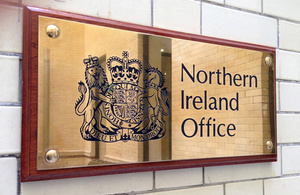 Their Royal Highnesses the Prince of Wales and the Duchess of Cornwall on the first engagement of the day visited Wrightbus, Ballymena. Upon arrival TRH's were greeted by the Lord Lieutenant of County Antrim Mrs Joan Christie OBE.
Robert Wright and his son Dr William Wright CBE, established the Company in 1946. The company started making buses in the 1970's and was the first British manufacturer to design, develop and market a fully accessible public transport vehicle in the UK. The family owned company, employing 1,600 people, recent successes include StreetLiteTM and the prestigious New Bus for London and on various product platforms in Dublin, Singapore, Hong Kong and the USA.
Moving inside to the Boardroom TRHs listened to a company overview from Mark Nodder, Group Managing Director, The Wright Group. Later TRH's boarded the New Bus for London and were given a short overview of the vehicle, before proceeding by bus to the rear of the factory.
Accompanied by John Mclaughlin, Managing Director, Wrightbus Limited TRHs toured the Production Lines and met a number of operators and a group of female apprentices. HRH the Prince of Wales moved to the Development Area, and was given a short overview and met a number of operators.
Later TRHs walked to the Canteen and met a group of employees en-route. In the Canteen TRH's met a number of groups representing the following areas:- Next generation – the Wright family, Employees over 40 years' service, Subsidiary company Representatives – En-Drive, Metallix, Composites, Employees over 25 years' service, Employees over 10 years' service, Wright Group Directors.
Mr Nodder spoke a few words and invited HRH The Prince of Wales, on behalf of the workforce, to present a gift of a Pax 1776 Tenon Saw, to Dr William Wright in recognition of a lifetime's commitment to bus building. TRHs were also invited to unveil a plaque to commemorate the visit.
Later TRHs were presented with gifts of special edition model buses by youngest apprentice, Aaron Fleck. Prior to farewells and departure for the next engagements TRHs were invited to sign the visitors book.
Published 25 June 2013