World news story
TRH The Prince of Wales and The Duchess of Cornwall left the Sultanate
Their Royal Highnesses The Prince of Wales and The Duchess of Cornwall said their official goodbyes at Muscat International Airport earlier this afternoon.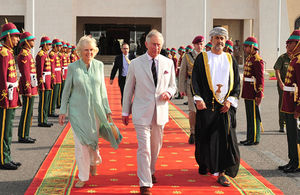 There to also bid them farewell was British Ambassador Jamie Bowden who has been extremely proud to showcase the strong UK and Oman ties over these past few days. Their Royal Highnesses have taken in the vibrant cultural historic town of Nizwa, been introduced to colourful and educational visits to both The British School Muscat and Shams al Maref Primary School and met prominent women in Omani society through the Omani Women's Association. And how can we not mention a Welcome by His Majesty, Sultan Qaboos bin Said on Sunday, interaction with patients at the Royal Hospital and equestrian events at His Majesty's Royal Cavalry.
A full programme of events, sights and all things great about Oman has been reflected in this visit. We know that Their Royal Highnesses have enjoyed their time here and have since departed for the UK with happy memories at the end of their Gulf-wide trip which has taken in Jordan, Qatar and Saudi Arabia.
We hope that you have enjoyed the coverage of the Royal Visit to Oman on our website, on Facebook and via Twitter. If you have any comments or would like to let us know what you thought of this special visit, we would love to hear from you.
Published 19 March 2013