World news story
Treasury Minister promotes asset management opportunity in Hong Kong
Economic Secretary to the HM Treasury Sajid Javid paid a two-day visit to Hong Kong.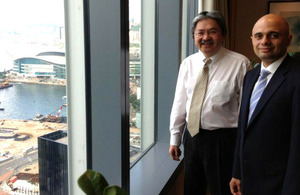 Economic Secretary to the Treasury Sajid Javid visited Hong Kong on 9 and 10 July to strengthen business, investment and financial ties with Hong Kong.
During his visit to Hong Kong, Mr Javid called on Financial Secretary John Tsang and Financial Services Development Council Chairlady Laura Cha to explore potential synergies between UK-Hong Kong investment management strategies, discuss London-Hong Kong co-operation across the financial services industry and promote the development of the RMB market. He also met key officials in the Securities and Futures Commission to share the UK experience on regulatory framework, and learn lessons from his Hong Kong counterparts.
The Minister addressed a business breakfast hosted by the British Chamber of Commerce to reinforce UK's commitment to strengthening itself as an international investment management hub. In addition he had lunch with members of the Hong Kong Investment Funds Association, and led a dinner discussion with senior bankers and advisors on UK attractiveness as an investment destination and funds management centre.
Further Information
Read more about Mr Javid's biography and ministerial responsibilities.
Follow the British Consulate-General Hong Kong on facebook and twitter @UKinHongKong
Published 10 July 2013