Travelling football fans are advised to be on the ball
Birmingham City, Fulham, Chelsea and Manchester City are playing matches in Europe this week. The Foreign Office has produced advice and tips for travelling fans.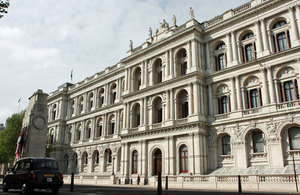 In the Champions League Manchester City play Bayern Munich on 27 September and Chelsea play Valencia on 28 September. In the Europa League Birmingham City play Maribor and Fulham play Odense on 29 September.
You can find information and advice for fans going to the matches on our travelling football fans pages:
Odense v Fulham Information on these pages include:

details on how to get to the stadium
passport and visa requirements
some local laws and customs to be aware of
emergency contact details in case something goes wrong See our travel advice by country pages for more information on travelling to Denmark, Germany, Slovenia and Spain.
Published 26 September 2011