Press release
Travel associated measles accounts for a third of England cases as numbers continue decline
Latest measles update shows travel associated cases account for a third of all England cases while the overall numbers continue to decrease.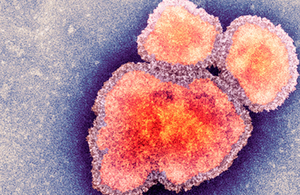 New figures published today (23 May 2014) by Public Health England (PHE) show there were 70 measles cases confirmed in England between January and March this year. This shows a significant decrease from the same period in 2013 when 673 cases were confirmed, and an increase from October to December, when there were 24 cases.
Around a third of all new cases (27) were infected while overseas and 16 were associated with travel to the Philippines where there has been a large outbreak. During 2013, there were 10,271 cases of measles reported within the European Union. Of the cases reported in Europe, 8 were complicated by acute measles encephalitis (infection of the brain) and 3 died.
Today's new figures also show there were 847 confirmed cases of mumps in the first quarter of 2014, compared to 1,036 cases confirmed between January and March 2013, and 520 cases reported in the last quarter of 2013. There were no cases of rubella confirmed between January and March 2014, compared to 3 cases identified in the last quarter of 2013.
Dr Mary Ramsay, PHE's Head of Immunisation said:
Measles is a potentially fatal, but preventable illness. Although the number of cases in England remains low compared to 2012 and early 2013, the 3 deaths recently reported in Europe is a stark reminder of the importance of completing vaccination. With measles circulating widely across many parts of the world it is very important that before going overseas on summer holidays people are aware of their own and their family's vaccination status and ensure they have received 2 doses of the measles, mumps and rubella (MMR) vaccine. This information can be found through GP services.

Although mumps numbers are high they have decreased when compared to the same quarter of last year and remain much lower than the levels seen in 2004 to 2005, when outbreaks were reported in several universities. This probably reflects the fact that most young people now attending university were eligible for 2 doses of MMR as children.

Measles, mumps and rubella are serious infections which are avoidable by receiving 2 doses of the MMR vaccine.
Notes to editors
Infections press office
PHE press office, infections
61 Colindale Avenue
London
NW9 5EQ
Published 23 May 2014