World news story
Travel advice for FK Molde vs. Celtic
Offical travel advice for fans travelling to the FK Molde vs. Celtic game 22nd October in Molde, Norway.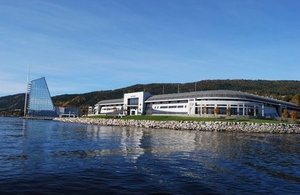 Date: Thursday 22nd October 2015
Venue: Aker Stadium, Molde, Norway.
Time: Kick off 2105 hrs (local time)
Before you leave the UK
Please read our travel advice for Norway
British citizens do not need visas for entry to Norway
Your passport should be valid for the proposed duration of your stay. Ensure that next of kin details are kept up to date.
Remember to bring your valid EHIC card
Keep your money and passport safe (Norway can be expensive)
Take out comprehensive travel insurance before you leave
Drinking in the street, non-designated pub or restaurant areas is prohibited in Norway
Don't get involved with drugs, the penalties are severe. Drugs and drink driving laws are stricter in Norway than in the UK. Possession of even small quantities can lead to heavy fines and/or imprisonment.
Match Day
Aker Stadium is located picturesquely on the shore of the Romsdalsfjord just a few hundred metres west of the town centre of Molde. The stadium lies right next to the Rica Seilet Hotel, which has become one of the town's principal landmarks. Due to the small size of the town it will be easy to find the stadium, either by foot from the centre or by car
Please find a map of the City Centre.
Molde Airport is located about 5 km east of Molde city centre. 10 minute Bus link or short taxi ride. Please note taxis can be expensive so remember to ask for a price before your depart.
At the match
We recommend that you arrive early for the match
Away supporters enter at the city centre side of stadium
You will be subject to a body search before entering the ground
Fireworks, flares, alcohol, poles for flags and any item that can be used as a weapon or thrown onto the pitch will not be allowed into the ground.
Drinking alcohol at football matches is generally prohibited in Norway.
Police and security staff have the authority to deny entry into the stadium to spectators under the influence of alcohol or drugs.
Obey instructions from stadium security to avoid being removed from the stadium and detained by the police.
If something goes wrong
The emergency number for police is 112, ambulance 113 and fire services are 110. As in any other cities, beware of pickpockets and bag snatchers in public areas - only carry what you need and leave spare cash and valuables in the hotel safety deposit box. If your passport is lost or stolen, you should contact the consular section of the British Embassy in Oslo as possible.
You may need to apply for an emergency travel document (ETD). Please note we are only able to issue Emergency travel documents (ETD) in Oslo.The fee for an ETD is £95 payable by local currency or Visa/MasterCard credit cards. You'll need to submit one passport photo in colour and a paper copy of your flight details when you apply. Please note that you need to book an appointment before you visit the embassy.
The contact details for our consular sections are: British Embassy Oslo, Norway Thomas heftyes gate 8, 0244 Oslo
Tel: +47 23 13 27 00
Email: oslo.consular@fco.gov.uk to book an appointment: Click here to get to our booking tool
Useful links
Connect with British Embassy Oslo on Twitter
Molde Tourist Information office
Published 13 October 2015