Travel advice for fans travelling to the Carling Nations Cup this week
Republic of Ireland, Northern Ireland, Scotland and Wales are playing this week. Check our travel advice if you're travelling to watch the matches.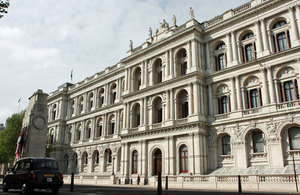 In the Carling Nations Cup, Republic of Ireland play Northern Ireland on 24 May, Scotland play Wales on 25 May, Wales play Northern Ireland on 27 May, and Republic of Ireland play Scotland on 29 May at the Aviva stadium in Dublin.
You can find information and advice for fans going to the matches on our travelling football fans page, and general information on travel in our travel advice for Ireland.
Remember:
No visa is required to enter Ireland

A passport is required with most airlines but check with your airline before you travel. Ferry companies will ask for a passport but might allow you to travel with sufficient ID - check with your ferry company
Make sure you have a European Health Insurance Card so you are covered for emergency treatment. This doesn't cover all medical treatment so you should also take out travel insurance
You cannot drink in the steet or at the stadium - it is an offence.
Published 23 May 2011