News story
Travel advice for British nationals in Christchurch following earthquake
Christchurch in New Zealand was hit by an earthquake on 22 February. We are offering consular assistance to British nationals affected by the situation.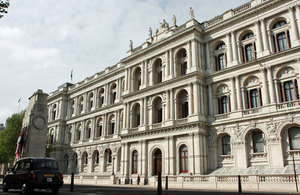 For advice and assistance British nationals in New Zealand should call 04 9242898. British nationals in the UK concerned about family or friends should call 020 7008 1500.
A British Consulate office is now running in Room 335, Copthorne Commodore Hotel, 449 Memorial Avenue, Christchurch, telephone 03 358 8129. This is for British nationals who are in Christchurch and require consular assistance. It is open from 09:00 to 18:00 daily.
You are advised to contact your airline for confirmation of flights before travelling to Christchurch airport. Please also check Christchurch airport website for flight information.
British visitors arriving from Christchurch to Wellington are being afforded consular assistance in the British High Commission on 44 Hill Street. There is also a Civil Defence Centre at the i-Site visitor centre and Wellington City Council offices at Wakefield Street, Wellington providing free accommodation and support to those affected by the earthquake.
A curfew is in place overnight in central Christchurch.
Published 25 February 2011