News story
Transport Secretary welcomes new rail services for Blackpool and Shrewsbury
Patrick McLoughlin marks launch of direct rail services to and from London for Blackpool and Shropshire.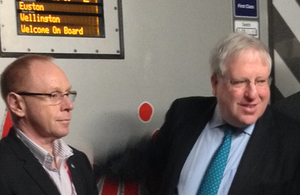 Transport Secretary Patrick McLoughlin today marked the launch of new Virgin Trains direct services between London and Shrewsbury and London and Blackpool.
Joining passengers on the first weekday service from Shrewsbury to London Euston this morning, Monday 15 December 2014, Patrick McLoughlin said:
The launch of Virgin Trains' new direct services from London to Blackpool and Shrewsbury is great news for passengers, and I wish every success to the teams who will be running them

This is another sign of the renaissance in Britain's railways, and we are already seeing more services, more passenger journeys, and more jobs being generated by the industry.

Our rail network is a key part of our long term economic plan which is why more than £38 billion will be invested in maintaining and upgrading the network over the next 5 years.
Rail media enquiries
Press enquiries 020 7944 3021
Out of hours 020 7944 4292
Switchboard 0300 330 3000
Published 15 December 2014