News story
Transport Secretary sees Northamptonshire transport improvements
Patrick McLoughlin visits new Northampton rail station and meets local leaders to discuss A45 scheme.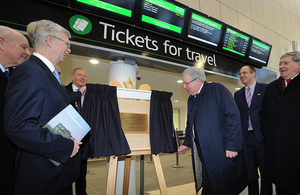 Transport Secretary Patrick McLoughlin visited Northampton today, Monday 12 January 2015, to mark the opening of a £20 million new railway station that will provide improved journeys for thousands of passengers every day.
The new station, which has been partly funded with £10 million of government investment, will provide a modern gateway to the town, and will help meet the demand from growing numbers of visitors and commuters. The building is more than twice the size of the previous station, and features more ticket gates to reduce bottlenecks, along with accessible lifts.
Patrick McLoughlin said:
As part of our long-term economic plan, we are investing record amounts in building a world-class rail network fit for the 21st century.

I am delighted that passengers in Northampton are able to benefit from this impressive new station, with further improvements to come as the work is completed. This, along with the thousands of extra seats being provided by £62 million of government investment, will make a real difference to passengers' journeys.
The station, which is managed by London Midland, has been built by Network Rail in partnership with Northamptonshire County Council and Northampton Borough Council. Work can now begin to fit out the station's new shops.
The opening of the station is further good news for passengers. Last month, London Midland launched 10 new trains into service on its network, providing 40 new carriages in total. The trains, which were paid for by £62 million of government funding, are providing passengers in Northampton, Milton Keynes, Leighton Buzzard, Tring, Hemel Hempstead and Watford Junction with 139,000 extra seats every week.
Over the next 5 years, £38 billion will be invested in improving and maintaining the UK's rail network.
Following the visit to Northampton station, the Transport Secretary then visited the Chowns Mill roundabout at A45/A6 junction at Higham Ferrers. The scheme which was announced at Autumn Statement 2014, is part of government's £1.4 billion vision to improve roads in the Midlands.
Once the scheme is completed, road users will benefit from new segregated lanes, improved signalling and additional carriageways at the A45/A6 junction at Higham Ferrers. The work which is expected to be completed in 2019, will help increase capacity, improve journey reliability and ease congestion in supporting local growth.
Rail media enquiries
Media enquiries 020 7944 3021
Out of hours media enquiries 020 7944 4292
Switchboard 0300 330 3000
Published 12 January 2015