News story
Transport Secretary launches Loughborough link
Patrick McLoughlin opens £19 million scheme in Loughborough that will reduce congestion in the town centre.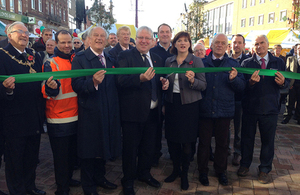 Transport Secretary Patrick McLoughlin is in Loughborough today (3 November 2014) to mark the completion of a project that will bring the 2 halves of the town centre together.
The £19 million scheme, supported by £14.7 million from the Department for Transport, will reduce congestion in the town centre by moving more traffic to the town's inner relief road, which was completed in March this year.
Patrick McLoughlin said:
This scheme will help keep Loughborough moving and boost regeneration of the town centre.

The £14.7 million we are putting into this scheme shows the government is serious about investing in the infrastructure the country needs to drive growth and deliver our long term economic plan.
The Secretary of State's visit marks the completion of the pedestrianisation of the town's Market Place and is part of the government's local major transport programme.
It also completes the final part of the wider regeneration of Loughborough, given the go ahead by the Department for Transport in March 2013.
The project will transform traffic flow and make the town centre more accessible and attractive.
Roads media enquiries
Press enquiries 020 7944 3021
Out of hours 020 7944 4292
Switchboard 0300 330 3000
Published 3 November 2014