News story
Transport Secretary in Sheffield to receive northern electrification report
Transport Secretary Patrick McLoughlin visits Sheffield to discuss the Northern Electrification Task Force report.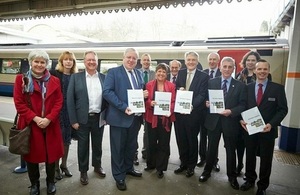 The Transport Secretary Patrick McLoughlin visited Sheffield today (5 March 2015) to discuss the Northern Electrification Task Force's report on future electrification of rail links in the region.
The Secretary of State established the task force to advise the government on the priorities for future rail electrification projects in the north. It consists of local MPs, council leaders representing Rail North, and officials from the Department for Transport and Network Rail.
Welcoming the report published by the task force today, Transport Secretary Patrick McLoughlin said:
Between 2014 and 2019 more than £38 billion is being spent to improve and maintain our national rail network as part of the government's long term economic plan. Electrification of the railways is a key part of that investment programme, with work underway across the north, the Midlands, and into south Wales. The electrification programme is central to our ambitious plans to transform the rail network across the country. It will enable the modern fleet of electric trains to run on the network, providing faster and more reliable journeys.

I am grateful to the members of the task force for their work. I want to see a rolling plan for further electrification and this study will have a vital part to play in setting the agenda for 2019 and beyond. Network Rail will take the task force's findings into account as it develops its nationwide plan to improve the nation's railways.
The task force's recommendations will now be considered by the government as part of the development of a comprehensive transport strategy for the north of England. An interim report on the north of England transport strategy is due shortly.
Rail media enquiries
Press enquiries 020 7944 3021
Out of hours 020 7944 4292
Switchboard 0300 330 3000
Published 5 March 2015