News story
Transport schemes helping Oxfordshire commuters and environment
Baroness Kramer visits Oxford and Banbury to see transport funding at work.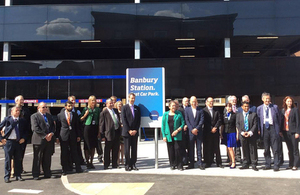 Transport Minister Baroness Kramer visited Oxfordshire today to see how government funding is making a real difference to rail passengers and local air quality.
The minister opened the new £10 million multi-storey car park at Banbury Station which provides more than 700 parking spaces for those using the popular commuter station. It also includes facilities to encourage those taking the train to choose environmentally-friendly ways of getting to the station, with plug-in car chargepoints and facilities for cyclists.
Baroness Kramer said:
I was pleased to open Banbury Station's new car park, which will make a huge difference for its increasing number of passengers. Our funding has helped create a more attractive, passenger-focused and, thanks to its new cycling facilities, environmentally friendly station.

Our railways are an important engine for economic growth, getting people and goods where they need to go. That is why £38 billion is being invested to improve and maintain them over the next 5 years.
The minister also visited Oxford where she toured environmental transport schemes on a low-emission hybrid bus supported by the Department for Transport's Green Bus Fund.
She met with leaders from Oxford City Council, Oxfordshire County Council and local transport providers Stagecoach and Oxford Bus Company to learn about how they are working in partnership to achieve a reduction in transport emissions in the city and how Oxford has benefitted from DfT funding.
Baroness Kramer visited Oxford City Council's new plug-in vehicle chargepoints, Oxford County Council's bike hire scheme and also met representatives of the city's electric car club.
Baroness Kramer added:
I was pleased to see how Oxford's ambitions to cut carbon from transport have been supported by the government.

Oxford's cleaner buses, car clubs and cycle hire scheme make it a more pleasant city and show just why we continue to support the drive for greener transport through a raft of funding and policy measures.
Published 30 June 2014