News story
Transport Minister vows to improve safety for women on transport
Claire Perry showed her commitment to increase safety for women on public transport at a seminar.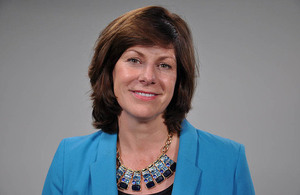 Transport Minister Claire Perry today (20 January 2015) showed her commitment to increase safety for women on public transport at a ground-breaking event bringing together more than 60 delegates from women's charities, campaigning groups and grassroots organisations.
Speaking at the Women's Safety on Transport seminar, Claire Perry said:
Investment in transport is at the heart of the government's long-term economic plan, and that includes making it safe for everyone to use.

I am determined to do everything I can to make transport safer for women. That's why my department, along with British Transport Police (BTP), has funded a research project to find out what measures work on the ground, both here in the UK and internationally. I also know there is more we can do, which is why I want to hear directly from the many groups represented at today's event.
The research by Middlesex University and commissioned by the Department for Transport and BTP is looking at the effectiveness of common approaches like CCTV, increased police presence, lighting, and panic buttons and phones in reducing unwanted sexual behaviours on public transport.
The findings will be launched in a seminar later in the spring to transport organisations, women's groups, policy makers, researchers and police officers.
The Department for Transport makes personal safety considerations a part of all future rail franchise awards, and is working closely with BTP and rail operators to explore different partnership approaches to tackle violence and sexual offences across the network.
Claire Perry praised the progress made by Project Guardian, a partnership between Transport for London, BTP, the Metropolitan Police and the City of London Police that aims to increase the reporting rate of sexual offences on London's transport systems by 20%.
The Women's Safety on Transport seminar is part of the women's engagement programme run by the Government Equalities Office. The programme aims to bring women from all parts of the community to share views and debate on a wide range of issues, from violence against women and girls to gender pay gap.
The UK is a signatory of the Beijing Declaration and Platform for Action that was signed 20 years ago and which committed the government to a programme of action to end gender inequality.
News desk enquiries
Press enquiries 020 7944 3021
Out of hours 020 7944 4292
Switchboard 0300 330 3000
Published 20 January 2015