Press release
Transport Minister sees benefits of investment in the south west
Road and rail projects will improve connections to rest of the UK.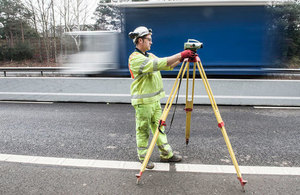 Transport Minister Andrew Jones will see first-hand how major government investment will improve journeys for people in the south west and boost the region's economy in a visit to Somerset and Devon today (Tuesday 4 August 2015).
The government has committed £2 billion to dual the A303 and A358 in the south west, including a tunnel at Stonehenge. The work, together with upgrades to the A30, will allow roads users to drive on a dual carriageway from London to within 15 miles of Land's End, forming a vital connection between the south west, London and the south east.
The minister will also visit the A358 and the A303 with local leaders to look at how the work, to be delivered by Highways England, will lead to better and safer journeys and unlock economic growth. This follows on from a productive meeting yesterday (Monday) with a number of stakeholders, including National Trust and Historic England about the Amesbury to Berwick Down section of the A303.
Andrew Jones said:
Transport is key to the south west's prosperity. That's why, as part of our long-term economic plan, we are making the biggest investment in roads in a generation.

The £2 billion roads investment for the south west of England and our support for local transport projects will significantly improve journeys, making it easier for people to get around and creating jobs and opportunities for hardworking people in the south west.

It was great to meet the local stakeholders, councillors and heritage groups at Stonehenge and to hear just how necessary the road plans are for their local communities. There is much work to be done to create the best scheme for the area and I was delighted to see all parties working together to make this scheme happen.
The minister is also set to view work on the new £21 million Northern Inner Distribution Road in Taunton, currently being constructed, which will reduce traffic in the town centre and unlock land for regeneration to encourage economic growth.
He will hear about progress on the redevelopment of Taunton station, backed by £4.6 million from the government's local growth fund, which will include an enhanced public transport interchange.
On the afternoon of Tuesday 4 August 2015, the minister will see how Government investment has reduced the risk of flooding in the area thanks to the Mulcheney Road raising scheme and A372 Beer Wall Culverts. The projects opened in February 2015 following funding by the Department for Transport.
General enquiries
Members of the public should contact the Highways England customer contact centre on 0300 123 5000.
Media enquiries
Journalists should contact the Highways England press office on 0844 693 1448 and use the menu to speak to the most appropriate press officer.
Published 4 August 2015