Transparency: DFID ranks top in latest aid index
The Department for International Development has come top of this year's international aid transparency index.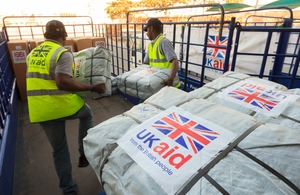 The index - produced annually by Publish What You Fund - ranks 72 aid organisations across the world, from country donors to private foundations.
The top ten aid donors for transparency 2012, according to Publish What You Fund
In addition to topping the table, DFID - which leads the British Government's fight against poverty - became one of the first two organisations ever to receive the highest overall rating awarded by the independent pressure group.
The report follows DFID's efforts to make more information about its work publicly available in recent years. It was one of leading donors that helped to set up the International Aid Transparency Initiative (IATI) in 2008, which offers a global standard for publishing aid information.
This year, its open data strategy also sets out how the department is working to release as much of its data online as possible.
A spokesperson for DFID said:
Encouraging transparency is not just the right thing to do. It also allows people in the developing world to see how money is spent in their countries and to make sure it goes to the people who need it most.

It is part of the way in which the UK can promote open societies and open economies, which ultimately will give developing countries the means to stand on their own two feet.
The report found that donor transparency is on the rise overall with six more organisations being given a 'fair' rating in this year's assessment. However, the authors noted that many donors continue to fall short of best practice.
Director of Publish What You Fund David Hall-Matthews said:
Transparency is essential if aid is to truly deliver on its promise. That is why it is so disappointing to see that many of the world's largest donors have not delivered on their promises.

For aid to be fully transparent, donors must publish information to IATI. Only then can development activities be made truly effective, efficient and accountable
In a move to illustrate what open data can do for citizens, donors and governments, DFID is joining up with the Omidyar Network and Wired magazine to host the first "Open Up!" conference in London next month.
This high-level event will show how open data - combined with web and mobile technologies - can drive more engagement of citizens in government, and give more people a voice to hold their decision makers to account.
Published 1 October 2012