Press release
Transparency at the heart of answer to late payment
The Business Secretary is proposing new measures for greater transparency of company payment practices to help smaller firms get paid on time.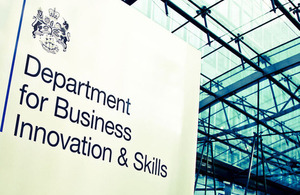 Following a consultation in which a clear majority of businesses called for more disclosure to tackle late payment, the government will require larger firms to publish information of their payment practices, and will also act to remove legal barriers preventing firms from accessing invoice finance.
The government will also work with the Institute of Credit Management (ICM) to strengthen the Prompt Payment Code and to increase accountability of signatories. Where legislation is required to implement the package, it will be introduced when parliamentary time allows.
Business Secretary Vince Cable said:
For too long too many large companies have been getting away with not paying their suppliers on time to maximise their profits. It is small business that is suffering as a result and it needs to stop.

The government has taken action to create a responsible payment culture but we need to go further. We will now make it compulsory for large companies to publish information about their payment practices so that those who are not playing fair can be held to account.
Skills and Enterprise Minister Matthew Hancock said:
I come from a small business background so I know how important it is to receive payment when it's promised. The steps we're taking today in response to the business community's concerns will help to reduce the strain of late payment.

It is good for business, no matter what size, to adhere to the Prompt Payment Code and we will work with the Institute of Credit Management to make it an even more powerful driver of good payment performance.

Our long term economic plan recognises the importance of small business and we are determined to make this country the best place in the world to do business.
Today's (30 May 2014) government response to the discussion paper is available online at 'Building a responsible payment culture'.
Notes to editors
The full government response to the discussion paper can be found at: 'Building a responsible payment culture'.

The government's long-term plan is to build a strong, more competitive economy and a fairer society.
Industrial Strategy gives impetus to the plan for growth by providing businesses, investors and the public with clarity about the long-term direction in which the government wants the economy to travel.
The first achievements and future priorities of the industrial strategy have been published and can be found at industrial strategy early successes and future priorities.
Published 30 May 2014