Transparency: 100 aid agencies publish spending data
The International Aid Transparency Initiative (IATI) welcomed its one-hundredth publisher of aid data spending today.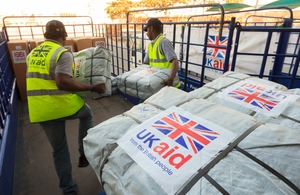 The International Aid Transparency Initiative (IATI) welcomed its hundredth publisher today, with UN Women joining the open data drive.
The UN agency joins 99 other aid organisations that are making information about what they spend, and where they spend it, publicly available and easier to use.
The International Aid Transparency Initiative - which aims to make information about aid spending easier to find, use and compare - was launched by the UK and other donors in 2009 to provide a global standard for publishing aid data.
Video: Find out how the International Aid Transparency Initiative works
The initiative brings together donors, partner countries, charities and many more to agree common standards for releasing aid data, making it easier to track what aid is being used for and what it is achieving on the ground.
The full list of 100 different publishers can be found on the IATI registry website.
Secretary of State for International Development Justine Greening said:
IATI's launch in 2009 marked a step-change in the global transparency agenda, from political and public commitment to firm action taken. And today sees IATI going from strength to strength.

Congratulations must go to the 35 IATI signatories and 100 publishers to date.

The IATI family has shown that when organisations commit to being more open and accountable, they become more than the sum of their parts.

But there is still much more to do - both in terms of increasing the number of publishers and improving data quality. I urge all organisations, big or small, to publish their information to IATI. Only then can development activities be truly effective, efficient and accountable.
The UK was the first donor to publish aid data to IATI standards in 2011.
This latest milestone also comes a month after the Department for International Development was ranked top of this year's aid transparency index.
The index - produced annually by Publish What You Fund - ranks 72 aid organisations across the world, from country donors to private foundations.
In addition to topping the table, the department's new open data strategy sets out how it will work to release as much of its data online as possible.
Transparency is critical to improving the effectiveness and value for money of aid. Making information about aid spending easier to access, understand and use means that UK taxpayers and citizens in poor countries can more easily hold Britain and recipient governments to account for using aid money wisely.
Published 20 November 2012