World news story
Transit Agreement signed between UK and Tajikistan
The United Kingdom and Tajikistan have signed a Transit Agreement to allow the movement of British equipment, currently in use in Afghanistan, over and through the territory of Tajikistan.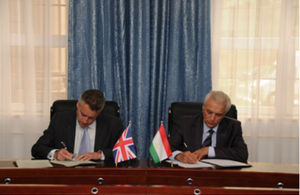 Ambassador Robin Ord-Smith and Tajik Minister for Foreign Affairs Hamrokhon Zarifi signed the agreement on behalf of their governments at a ceremony on Thursday 18 April in Dushanbe.
Mr. Ord-Smith said after the ceremony:
The British government are very pleased to sign this agreement with Tajikistan. We are grateful to the Tajik government not only for allowing us permission to transport our equipment through the country, but also for the continuous support and cooperation of Tajikistan during ISAF's operations in Afghanistan. This agreement is important in itself, but it also represents the deepening relationship between the UK and Tajikistan, particularly in defence cooperation.
Published 19 April 2013