Transforming rehabilitation - unlocking the voluntary sector
A third sector organisation was awarded £150,000 today to help voluntary groups play a leading role in cutting crime and reducing reoffending…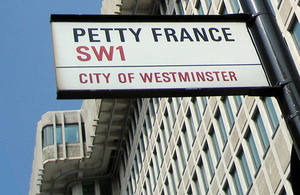 A third sector organisation was awarded £150,000 today to help voluntary groups play a leading role in cutting crime and reducing reoffending.
This money is part of a £500,000 pot to help Voluntary Community Sector (VCS) groups successfully bid for and deliver Payment by Results (PbR) contracts to manage and reform offenders.
3SC, a social enterprise who manage public service contracts on behalf of the third sector, will use the funding to work with voluntary organisations to draft an action plan. This will set out the steps which the sector needs to take to overcome any barriers to their participation in PbR contracts.
They will do this through:
A review of the existing evidence, to identify gaps and barriers; and
detailed engagement with VCS organisations, current and potential private contractors, commissioners and social investors.
Justice Minister Jeremy Wright said:
'The voluntary sector has a wealth of expertise and experience and a reputation for innovation - it is crucial we unlock this, bringing it to bear on the problem of our stubbornly high reoffending rates.
'This new funding will help ensure voluntary sector organisations are given the right support so they are able to add their weight to our reforms to reduce reoffending'.
Martyn Oliver, Chief Executive of 3SC, said:  
'We are delighted to be collaborating with other VCS partners on this important new initiative. Charities and voluntary organisations have long been at the forefront of innovations to reduce reoffending, and we're pleased to be working closely with the Ministry of Justice to help address some of the challenges the sector faces when taking on Payment by Results contracts'.
On 9 January the Justice Secretary announced reforms to tackle reoffending and the management of offenders in the community. Under plans laid out in the consultation 'Transforming Rehabilitation', private and voluntary sector organisations will work together on closing the 'revolving door' of the criminal justice system by tackling lower risk offenders.
The new approach will see providers only paid in full if they reduce reoffending through PbR contracts. The proposals are intended to drive innovation and efficiency through the criminal justice system.
Notes to editors:
View the consultation Transforming Rehabilitation - a revolution in the way we manage offenders.

Read a copy of the previous consultation Punishment and reform: effective probation services.

Access further information on 3SC.
Published 24 January 2013