Press release
Training by local high street experts to help towns modernise
Teams of local experts to advise towns how they can adapt their high streets to changing consumer behaviour.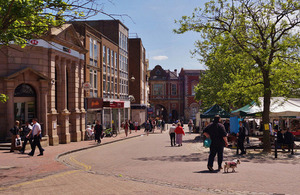 From September, dedicated teams of local experts will train towns how to adapt their high streets to changing consumer behaviour, Communities Secretary Eric Pickles announced today (2 September 2013).
The training and mentoring is to be targeted at the leaders of 350 'town teams' across the country, which were created following the recommendations of the Portas Review.
Training will:
encourage towns to carry out high street health checks
agree what the town centre 'offer' will be to residents and visitors
explain how to make best use of planning powers and new community rights to take over closed pubs or shops
detail how neighbourhood planning should be used to decide what local areas should look like in the future
The workshops will be provided by dedicated local high street experts from organisations such as the Association of Town and City Management, Centre for Local Economic Strategies and Business in the Community. They will advise town teams how to 'future-proof' their towns by looking beyond retail and turn high streets into thriving centres of culture, entertainment and social activity for the future. The training will draw on examples of successful high streets across the country that have developed winning strategies and created busy town centres.
The support is one part of measures put in place by the government to equip local communities with the powers and tools they need to respond to changing trends and develop plans that are the right fit for their communities.
Eric Pickles said:
We have reset the terms to allow high streets to thrive in the digital age with tax breaks for small businesses, a simplified planning system and fairer parking rules.

We've also followed many of the recommendations set out in the Portas Review, but it is now for 'town teams' to come together and plan what they want from their high streets, not just today, but in 10, 15, 20 years' time.

There isn't a one-size-fits-all model but with the help of these dedicated local high street experts town teams will have the tools to make the changes they want, and support the high streets of the future.
The workshops will take place across the country and the first ones will be on:
partnership development
planning powers
high street beyond retail
business improvement district basics
running a town team
importance of footfall and business planning
These issues have been identified by the Association of Town and City Management as the most pressing when getting towns ready for change.
The programme will run until 2015 and over the next months towns will receive additional tailored support on issues such as:
running a market
digital high street
place branding
age friendly cities
volunteering
timebanking
understanding investor and developers
Photo by Ron Adams under creative commons.
Further information
Training is available primarily to the 350 established Portas Pilots and town teams across the country, but will be open for interested parties whenever possible.
The workshops will start in September and run until 2015. For information on the training calendar see the Association of Town and City Management website.
This training is part of the government's ongoing programme of support to breathe new life into high streets. The government is investing £18 million to help high streets, including funding 24 Portas Pilots and 330 town teams. The funds have also provided expert business support through the High Street Champions initiative in partnership with Business in the Community.
Towns up and down the country are already taking action to rejuvenate their high streets, with Forest Hill getting 7 out of 10 empty high street shops back into use using short term leases, Braintree reducing parking charges to bring more than 44,000 extra cars to the high street, and Market Rasen setting up an award winning market that brings extra people to the high street.
The government is also creating the right conditions so councils, businesses and communities can work together to rejuvenate their town centres:

business rates: we have doubled small business rate relief for 3 and a half years to help small shops, and made it easier for small firms to claim small business rate relief through the Localism Act. Over half a million businesses in England are expected to benefit, with about one third of a million of businesses paying no rates. The level of small business rate relief has trebled since the general election, rising from £333 million in 2009 to 2010, to £900million in 2012 to 2013.
planning: planning restrictions have been lifted to help landlords make better use of their empty properties, either by allowing them to lease for shorter periods, helping start-up businesses to set up in the high street, or by making it easier to turn commercial properties into residential facilities to increase resident population and local footfall.
parking: we have changed the previous approach to setting parking fees to discourage car use and provide 'maximum' parking levels, have changed planning rules to allow councils to make decisions about parking requirements and fees in order to best meet local needs and issued guidance that encourages councils to attract shoppers by setting competitive parking charges, and to improve the quality of parking in town centres so that it is convenient, safe and secure.

The Future High Streets Forum brings together leading businesses, academics and local leaders to look at the challenges facing our town centres and work with councils to build on what government has started.
Published 2 September 2013