News story
Training areas in Scotland support major multinational exercise
Military personnel have been training in Scotland; using Cape Wrath and Air Weapons Range (AWR) Tain during a major exercise.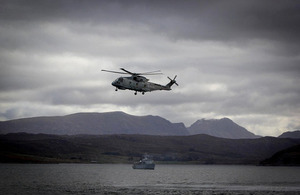 Exercise Joint Warrior is a tri-service exercise that runs twice a year, in spring and autumn, and the most recent manoeuvres have just ended.
This autumn's session saw elements of the Army and RAF working alongside Royal Navy frigates, minehunters, and survey vessel HMS Echo, as well as negotiating the unpredictable British weather and rolling seas.
The exercise saw 15 naval units from the UK, France, Denmark and Norway deployed under the direction of the Commander Danish Task Group on board Her Danish Majesty's Ship (HDMS) Absalon.
It is co-ordinated and planned by a joint team of Royal Navy and RAF personnel based at Northwood Headquarters in London, augmented by up to 150 personnel from the 3 services, many of whom are reservists. Sandown Class minehunters HMS Blyth and HMS Bangor both took part.
Lieutenant Commander Ash Spender, Commanding Officer of HMS Blyth, said:
The training gleaned from this exercise is critical to my command team.

The command and control required to work in a task group formation with coalition and NATO partners is crucial to modern multinational warfare.
The 2-week exercise covered a number of evolving crises and conflict scenarios involving multiple nations, internal disputes, piracy and terrorist activities. It saw the development of simulated political and military tension in a fictional nation resulting in hostilities and war-fighting.
The Defence Infrastructure Organisation (DIO) manages Cape Wrath and AWR Tain.
This autumn's Exercise Joint Warrior relied on support from Cape Wrath to conduct joint fires training. A smaller amount of training on private land (TOPL) is also used, while AWR Tain supports aviation exercises.
Major (Retired) Kim Torp-Petersen, Deputy Commander DIO Operations Training Scotland, said:
DIO's priority is to support our Armed Forces as they prepare for operations. The autumn Joint Warrior exercise is traditionally a smaller affair with less 'boots on the ground' but it still relies on support from Scotland.

The spring exercise normally uses a large proportion of Scotland, mainly because it involves land, sea and air components. Our training sites at Aultbea, Cape Wrath, Kirkcudbright and Tain are used, plus up to 200,000 acres of TOPL.

We're proud to be able to offer our training areas, camps and facilities to support exercises such as Joint Warrior and we look forward to welcoming troops back to Scotland for this important exercise in the spring.
Published 25 October 2013