World news story
Training and Academic Exchange Programme in Science Education
This project is part of the Science and Innovation fund of the British Embassy in Montevideo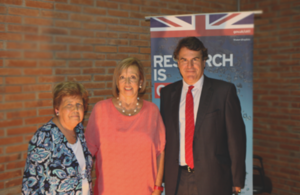 Ambassador Ben Lyster-Binns, together with the Minister of Education and Culture, Maria Julia Muñoz, and the Director of the Education Training Council (CFE) launched the Programme for training and academic exchange for science education at the Teacher Training Centre in Maldonado (CERP Este).
The programme consists of a series of training opportunities offered by British experts in Science, Technology, Engineering and Mathematics (STEM) for almost 100 teachers of primary and secondary school and teacher trainers, due to an agreement with CFE.
CFE's Director, Ana Lopater, said that "this programme is relevant for the training in education and for the entire education system under ANEP's management. For the CFE, this coincides with the development process of the new curriculum". This will benefit from the participation of the national coordinators of CFE's scientific disciplines in the training of offer. In turn, Minister Muñoz highlighted the importance of exchanges with other countries and of enriching the training of teachers, which would result in an improvement at all levels of education.
Ambassador Lyster-Binns commented that "British teachers from different institutions are offering their expertise in science education, in curriculum design and pedagogy for the benefit of the Uruguayan education system. We are also sure that they are taking some great ideas back to apply in the UK. That is what we seek: to increase the exchange between both countries, for mutual benefit".
This programme, which has a special emphasis in online pedagogy, is part of the Science and Innovation Fund of the British Government that dedicated one million pounds (US$ 1.6 million) to running programmes, projects and courses linking Uruguayan and British institutions in 2015-2016.
Higher Education Academy trained teachers from scientific areas between 15 and 19 February at the Regional Teacher Training Centre in Maldonado. Canterbury Christ Church University trained teachers of primary and secondary education with both practical and theoretical classes between 15 and 26 February.
From Februrary 1 to 12, the British experts led STEM courses in Montevideo, coordinated by the Briitish Council, for national coordinators of the CFE's scientific disciplines.
Published 4 March 2016